You have a responsibility to check for the presence of asbestos in construction materials used around your house. Prior to 1990, WorksafeBC estimates there were approximately 3,000 building materials that somehow incorporated asbestos, often hidden in plain sight. If you are ready to book a free consultation with a member of our Asbestos Extraction Team now, call toll free 1-844-466-7429.
Asbestos becomes harmful when the materials containing asbestos are disturbed. However, some property owners have the knowledge and experience to conduct a visual inspection around their property to check for asbestos. To conduct a basic visual inspection for asbestos in your home, download our printable DIY Inspection Diagram (10MB PDF) that includes the potential location(s) and appearance of the threatening materials around your house.
download the inspection diagram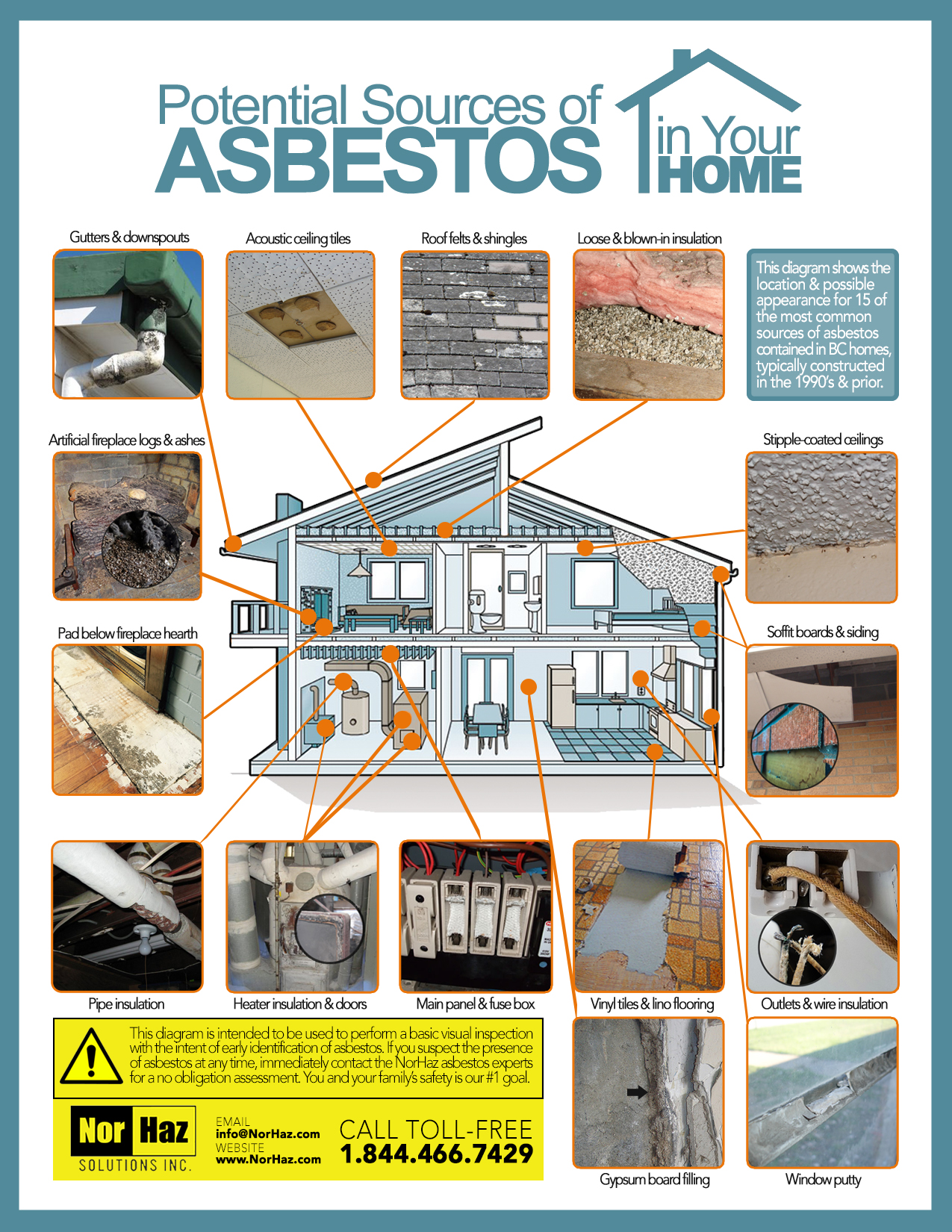 (typically pre-1990's construction)
Loose, blow-in insulation – especially older forms of vermiculite insulation
Flooring – vinyl tiles and linoleum sheet flooring as well as flooring adhesive
Moderately Common Sources
Roof felt and shingles
Roof gutters and down-pipes can be made of asbestos cement
Asbestos can be found in stucco
Soffit boards can be made of asbestos cement or asbestos insulating board
Asbestos cement board siding and under sheeting
Deck under-sheeting
Incandescent light fixture backing
Backing behind recessed lighting
Acoustic tiles
Textured ceilings and walls – spray-on popcorn/stipple-coated and sprayed acoustic tiles
Vermiculite wall insulation
Artificial fireplace logs and ashes
Asbestos pad under the fireplace hearth
Pipe insulation
Insulation on electrical wires
Main panel and fuse box – each fuse wire could an individual asbestos flash guard
Outlets and switches
Heat reflector for wood stove
Furnace duct tape
Furnace door and gasket covers
Boiler and furnace insulation
Gypsum board filling compound, and patching and joint compound for walls and ceilings
Window putty
Older appliances – Primarily pre-1980, possibly contained in water heaters, range hoods, clothes dryers, dishwashers, refrigerators, freezers, portable dishwashers, toasters, slow cookers and portable heaters
Due to the health threats of asbestos-containing materials, NorHaz recommends conducting only a visual inspection for asbestos with no moving, shifting and if possible, no touching of the materials in question. Contact of any kind with the materials in question should not be undertaken without the proper use of a respirator/mask with a HEPA filter. Standard dust masks are not sufficient to filter all asbestos particles.
---
Why is Vermiculite Removal or Abatement
Vermiculite removal/abatement procedures are especially important for older offices and homes. During the 1900's, almost three-quarters of the world's vermiculite used for both homes and buildings came from one mine in Montana, that was later found to have ore that contained dangerously high levels of tremolite asbestos.
Homes and commercial properties developed in the 1990's and prior, were commonly insulated with vermiculite. It was easy to apply, had effective insulating properties and commonly used throughout Vancouver. Contaminated vermiculite removal services are an essential service that will remove this toxic material. For this reason, our staff is dedicated to ensuring you will live more comfortably and safer with quality vermiculite removal work.